As Five Men Making Sh!t is based in Ottawa, Canada, we have a couple go-to places that we always like coming back to. Places where we know we'll get good food, unique cocktails, and a great atmosphere. EVOO Greek Kitchen in Ottawa's Little Italy is one of those places.
Full disclosure: FMMS is not paid or solicited to advertise for local businesses. We're simply recounting our experience at one of our favourite hangouts.
Although the restaurant is best known for it's delicious authentic Greek plates, its Mastiha-based cocktails set it apart from most other establishments in the city.
Recently, we were invited by owners Elias Theodossiou and his wife April to help them test out some new cocktails for EVOO's fall menu. We were more than happy to oblige and provide feedback on the new drinks.
"We're looking to add some heavier fall and winter flavours, but retain those Greek ingredients that make our menu unique," explained Elias when asked about his approach. Understandably, he didn't want to venture too far off his current drink menu which features Skinos-based cocktails.
Skinos is a Mastiha-based liqueur native to Greece. Click here to read our original post on it.
Elias tasked bartender Duncan Paterson, an imposing guy with a heart, and beard, of gold, to come up with some recipes. Some should be new, some established, but all should usher in the colder weather.
As Duncan presented us with one concoction after another, we took a couple of sips (or nine or ten) and provided a bit of feedback on each one – a bit more sweetness, less bitters, well-balanced, etc.
Overall, we came away thoroughly impressed with the offerings. Not all of the cocktails we tasted will end up on their menu, but the following ones were our favourites.
Skinos Peach Pie
This was arguably my favourite, if only because it was so unique. The Skinos and peach juice worked well together, and the kick of the cinnamon is pure Christmas. It resembled a Brandy Alexander, but with a unique flavour that only the Mastiha liqueur can provide.
The Skinos Peach Pie is definitely one to make for friends and family during the Holidays.
1 oz Skinos
1/2 oz spiced/dark rum
2 oz peach juice
1 oz cream (10%)
Couple dashes of cinnamon
Peach slice garnish
Add ice and all of the ingredients in a shaker and shake well. Strain into a highball glass over ice. Garnish with a peach slice.
Skinos Fizz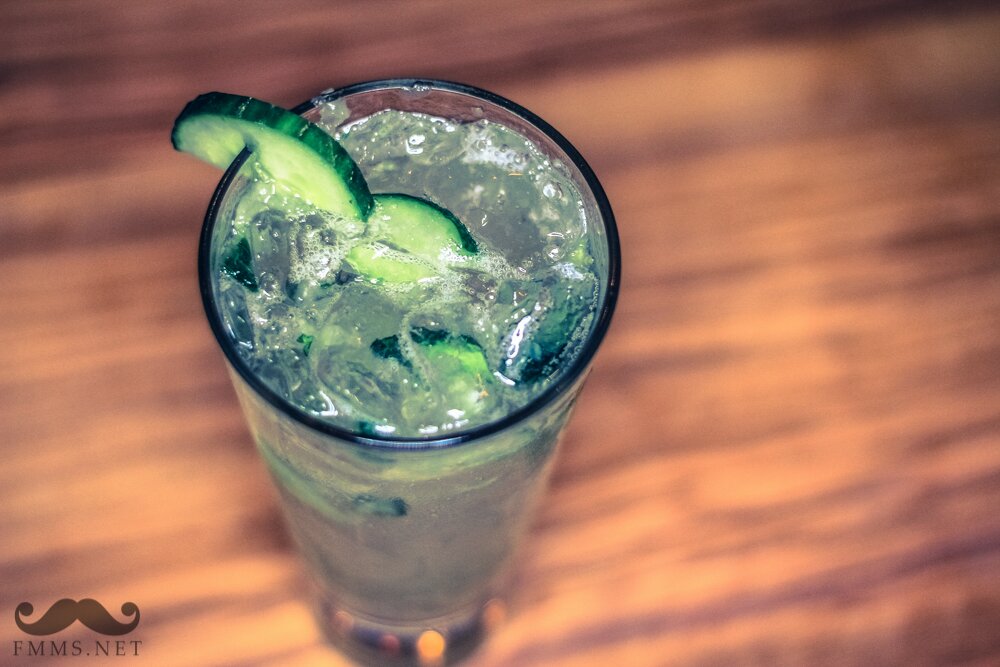 Similar to its cousin the Skinos Fresh, the Fizz is a more casual cocktail that's appropriate for any time of the year, in my opinion. The club soda works well with the cucumber. If you find that it lacks in sweetness, just add a bit more simple syrup to the mix.
1 1/2 oz Skinos
1 oz lemon juice
1/2 oz simple syrup
¼ cucumber muddled
Club soda
Add Skinos, lemon juice, and simple syrup to a shaker with ice. Muddle the cucumber and strain into a highball glass with ice. Top with club soda.
Micheladopoulos

A take on the Mexican cocktail the Michelada, this version is just a bit more Greek (and not only in name). Mixed with delicious dark Vulcan beer from Santorini, this is for anyone who loves spicy drinks.
The kicker here is the Tsipouro. Tsipouro is a type of Brandy that is notorious in Greece. With 40%-45% alcohol content, it beats out good ol' tequila in the strength category. But don't worry, it plays nicely with the other ingredients.
Coincidentally, this was Marco's favourite cocktail of the evening. He was adamant that I mention that fact.
½ bottle of Vulcan dark (or another type of dark beer)
½ cup of Clamato juice
½ a lime
1 oz Tsipouro (or tequila)
Couple dashes of hot sauce
Steak spice
Muddle lime in a shaker with Tsipouro. Add beer and Clamato juice into a pint glass with ice. Pour the lime juice and Tsipouro into the glass. Add a couple dashes of hot sauce and garnish creatively.
EVOO Greek Kitchen Sink
Duncan threw everything at us with this one, but to my surprise, it worked. All of the ingredients were thought out and mixed well together. The result is a strong, balanced cocktail that appeals to many tastes.
1 oz tequila
1 oz rye
1/2 oz lychee liqueur
Splash of lime
Ginger ale
Add all ingredients (except ginger ale) into a shaker with ice. Shake well and strain into a tall glass over ice. Top with ginger ale.
We had a great time trying out these cocktails and offering our humble advice to Elias and company. We were honoured to be part of the process and look forward to helping them out again in the future.
Make these yourself at home, or if you're in the Ottawa area pay Elias and April a visit and order a couple. It may just become your regular hangout as well.
Be sure to come and say hi to the five handsome men sitting at the bar while you're there!