Christmas is coming and FMMS is here to help you with some gift ideas for the men in your life. Whether it's for your boyfriend, husband, brother, or father, we hope to be able to provide you with some unique ideas that will make all the men in your life happy.
After all, isn't that what Christmas is all about? Well, it should be.
Braun Series 7 Electric Razor

by Mano Kardaras
For tips on a close shave, you can always refer to our post on the subject.
If you're looking for a convenient and effective shave in the mornings, look no further than the Braun Series 7 790cc electric razor. The cream of the crop of electric razors, this baby comes with a charging and self-cleaning kit – making maintenance a breeze. It doesn't hurt that it's arguably the most effective electric razor on the market too, giving a smooth shave on par – and in some cases – better than a traditional wet shave.
Your face will thank you.
Buy it on !
Grooming Products for the Bearded and Moustachioed Men in Your Life

Don't listen to Mano, beards are the way to go – especially during the cold winter months!
For tips on maintaining a beard or moustache, check out this awesome post! When sporting a beard or moustache, proper grooming is key. Some of the most important tools and products are good quality beard oils to condition your hair, wax to keep your hair neat and tidy during the day, and of course a quality comb to shape and train your hair.
You can find a variety of quality on Amazon.  They also have some good quality , but if you want to be extra thoughtful, try making your own. Check out our recipes here!
The Carry On Cocktail Kit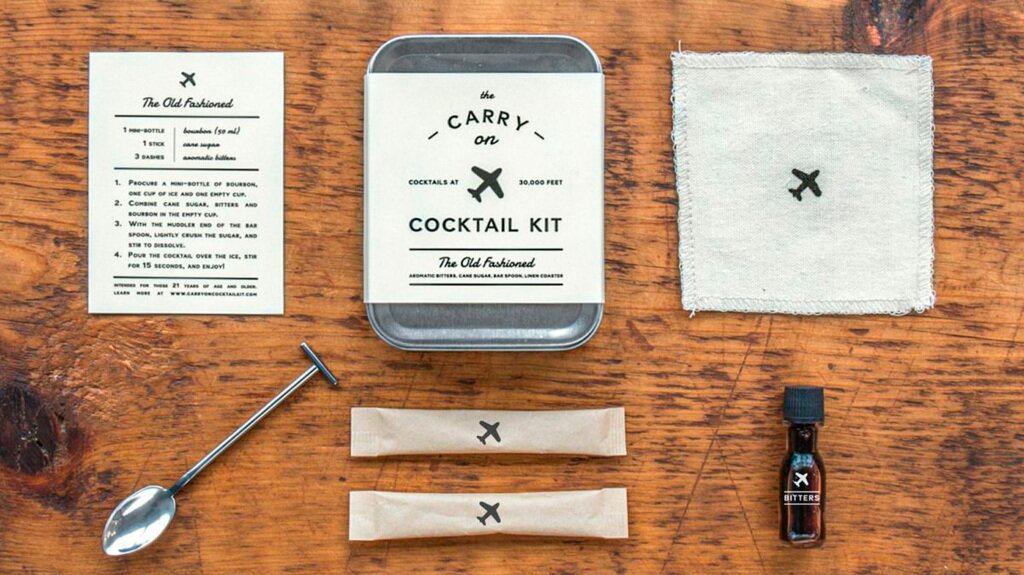 As their site says, "Gone are the days of boring in-flight drinks," and with this bad boy that couldn't be more true. I'm not proud to say that my first reaction when I saw this was pure jealousy – Why didn't I think of it? I would be swimming in money right this very second and all of you ungrateful wretches would never hear from me again… Ahem, sorry about that, I got a bit carried away there.
Anyhow, this thing is fantastic! TSA-approved, you just pop it in your carry-on before you get on your flight. The lucky recipient of this gift can then properly steel themselves for the impending holiday family reunion, or start their winter vacation early, with a delicious Old Fashioned instead of whatever swill the airline is serving.
Comes with a recipe card, a metal spoon/muddler, bitters, cane sugar, and even a classy linen coaster. Order rye with ice, turn it into a real cocktails, and then be the envy of all the other poor schlubs who are stuck in that flying sardine can making do with a glass of the "house red".
Cocktail Books

As far as gifts go, books are always a great choice. They are inexpensive and can bring joy to the reader for ages. We love books in general but even more so when they're about booze. If you happen to have a drinker amongst you (and who doesn't?), consider giving them a book to up their cocktail game, beyond reading this blog, of course.
From the countless number of cocktail books (many of which aren't great), we chose three. These are certainly not the only good ones out there, but they're three that we feel confident in recommending. They are very well written, well illustrated/photographed, and have the right amount of respect for the craft. They include the basics, how-to's, and hundreds of recipes.
by Gary Regan
by Jim Meehan
by David Kaplan
High-End Chef's Knife
If the person on your gift list cooks, but doesn't have a high-quality chef's knife in their kitchen, this is a gift they could end up using everyday for a lifetime. A good chef's knife makes cooking faster and easier, plain and simple. They make the chore of prep work enjoyable and safer, since it's much better to use less effort with a sharp blade as opposed to sawing away with the clunky dull pieces of steel found in most people's kitchen drawer. Also, high-end knives are just really, really cool.
When looking for a good knife, you want something balanced, strong, comfortably weighted, and ludicrously sharp. I believe you need a few different types of knives in the block to cover every situation but without a doubt the most important is the chef's knife or gyutou (Japanese equivalent). That's a logical place to start someone off. I've been lucky enough to own quite a few and handle dozens more, so here are my suggestions:
No frills here. This is a workhorse… an incredibly sharp workhorse. For the price tag, there is no matching the Misono UX10. It's made of high quality swedish steel and has a one of the highest rockwell ratings, which means it will get very sharp and stay that way for a long time. Like many high quality knives, they aren't ambidextrous, so make sure you buy the right one.
This is one of the first chef's knives I ever purchased and I've never regretted it. It's generally the first knife I recommend, as the price tag isn't as daunting as many other high end knives. It also benefits from being very stylish, very sharp, and surprisingly light. It's a joy to hold and use.